January 2017 data
Average rents in the UK continue to see a slower rate of rental growth compared to last year
The average UK rental value was £888pcm - this is 0.7% higher than the same period last year (£882pcm) 
Since July 2016, rents in Greater London have seen a slower pace of annual growth compared to last year
The average rental value in Greater London is £1,497pcm - this is 0.4% higher than the same period last year (£1,490)
Average rental values have increased in ten out of twelve regions in the UK, compared to the same period last year
---
Latest HomeLet Rental Index Press release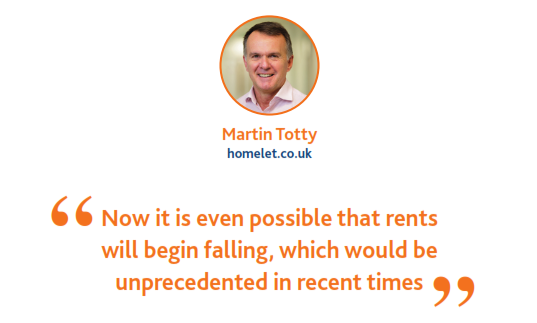 > Read the latest press release
---
Rental figures from the January HomeLet Rental Index
| Region | Average rent in January 2017 | Average rent in December 2016 | Average rent in January 2016 | Monthly Variation | Annual Variation |
| --- | --- | --- | --- | --- | --- |
| Northern Ireland | £602 | £602 | £575 | 0.1%  | 4.8% |
| Wales | £606 | £605 | £584 | 0.1%  | 3.8%  |
| East of England | £893 | £895 | £873 | -0.2%  | 2.3%  |
| North West | £673 | £668 | £658 | 0.7%  | 2.2%  |
| West Midlands | £658 | £663 | £648 | -0.6%  | 1.6%  |
| Yorkshire & Humberside | £615 | £614 | £607 | 0.2%  | 1.3%  |
| Scotland | £606 | £603 | £599 | 0.5%  | 1.3%  |
| Greater London | £1,497 | £1,508 | £1,490 | -0.8%  | 0.4%  |
| North East | £527 | £530 | £526 | -0.6%  | 0.2%  |
| South West | £791 | £784 | £791 | 0.9%  | 0.1%  |
| East Midlands | £583 | £585 | £584 | -0.4%  | -0.3%  |
| South East | £989 | £998 | £995 | -0.9%  | -0.6%  |
| UK | £888 | £892 | £882 | -0.4%  | 0.7%  |
| Notes | Based on new tenancies in January 2017 | Based on new tenancies in December 2016 | Based on new tenancies in January 2016 | Comparison of average rent in January 2017 and December 2016 | Comparison of average rent in January 2017 and January 2016 |
---
Coming soon
In 2017 we'll be releasing an interactive infographic showing county level rental data
In 2017 we'll be publishing data on average tenant incomes
Regional data 
You can use our interactive graphs to view the change in rental values over the past two years for each of the reported regions of the UK. 
Scotland Northern Ireland North East North West Yorkshire & Humberside East Midlands West Midlands Wales East of England London South East South West
Methodology
August's HomeLet Rental Index incorporates a methodology redesigned in conjunction with a professor at the London School of Economics. The updated methodology factors in important elements, such as property type and geography, to create mix adjusted averages. This makes Britain's most comprehensive rental market benchmark even more insightful. The new methodology has been applied retrospectively to our historical rental market data to ensure that the Rental Index can continue to be used to provide analysis of trends in the private rental sector.  
---
Sign up to receive the latest updates 
Enter your details below to receive updates on the latest findings from the HomeLet Rental Index.   
---
Enquiries
For information regarding the HomeLet Rental Index please email rentalindex@homelet.co.uk
For media enquiries relating to the HomeLet Rental Index please email mediaenquiries@homelet.co.uk
---
About HomeLet Rental Index
The index and average prices are produced using HomeLet's mix adjusted rental index methodology. This helps to track the representative rental values over time, which factor in changes in the mix of property types and locations of rented properties.
Data is gathered from our tenant referencing service, and our rental amounts are based on actual achieved rental prices with accurate tenancy start dates in a reported month, rather than advertised costs. The data used in the HomeLet Rental Index is aggregated to regional, county and city level only. This ensures that all property or individual records remain strictly anonymous.
The HomeLet Rental Index is prepared from information that we consider is collated with careful attention, but we do not make any statement as to its accuracy or completeness. We reserve the right to vary our methodology and to edit or discontinue this report. The HomeLet Rental Index may not be used for commercial purposes; we shall not be liable for any decisions made or action taken in reliance upon the published data.