What is the average rental value in the UK?
For April 2021 the data shows that the average rental price for a new tenancy in the UK was £996 per calendar month (pcm), which is up by 2.9% from last year.
Latest Rental Index data: April 2021
The average rent in the UK is now £996, up by 0.4% from last month, and up 2.9% on last year.

When London is excluded, the average rent in the UK is now £853 which is up 0.7% on last month and 6.2% on last year.

11 of the 12 regions showed an increase in annual variance, with the largest being the South West at 8.6%.

The South West shows the highest yearly increase of 8.6% between April 2021 and April 2021.

Average rents in London are down YOY, showing a 5.3% fall between April 2020 and April 2021; this is the 12th decrease in annual variance in subsequent months.

However, the average rental value in London (£1,580) was still 85.2% higher than the rest of the UK excluding London (£853).
>About our methodology   >Media & data enquiries   >Data table
---
Data Enhancements
The HomeLet Rental Index now includes data from both HomeLet and Let Alliance. The Rental Index is now based on around 1 million references processed each year on behalf of UK Letting Agents, the Rental Index represents the largest, most insightful and up-to-date view on the UK's private rented sector.
---
Commenting on this month's data, Andy Halstead, chief executive at HomeLet & Let Alliance, said:
"We're continuing to see a sustained demand for let property; against a backdrop of reduced stock, with landlords facing increased costs and growing concerns about legislative changes.
"As we gradually ease from protective measures, the stark reality is that we're fast approaching a summer where rental prices could accelerate at a rate never seen before.
"Almost a quarter of adults in the UK live in the private rented sector. The sector's importance seems to be understated by those who don't understand how vital it is. We all agree that the industry works best when balancing the needs of all parties, critically between landlords and their tenants. The common misconception is that increases in rents are solely driven by unscrupulous landlords trying to maximise profits. That is simply not true.
"Landlords have been hit by a sustained raft of legislative changes, which mean that their costs to let property have had to increase. With the Tenant Fees Act as an example, costs are ultimately passed on to tenants through higher rents - the same group who should have benefited most from that legislation.   
"The ban on all tenant evictions and plans to abolish Sections 21s may prompt some landlords to consider exiting the market when they're able to, causing yet more strain on property supply. Letting property will continue to be an excellent long term investment, but the pandemic has amplified some of the issues that both landlords and tenants are facing.
"The reality is that once the furlough scheme ends, millions of people could potentially be facing unemployment at the same time as tackling the most expensive rental market on record. The country risks a deepening crisis if policy changes aimed at restoring balance to the market is not urgently pursued."
---
Rental figures from the April 2021 HomeLet Rental Index
The table below provides a regional breakdown of the latest average rental values in the UK. 
Rental figures from the April 2021 HomeLet Rental Index 
| | | | | | |
| --- | --- | --- | --- | --- | --- |
| Region | Apr-21 | Apr-20 | Annual Var | Mar-21 | Monthly Var |
| South West | £955 | £879 | 8.6% | £936 | 2.0% |
| East Midlands | £709 | £656 | 8.1% | £718 | -1.3% |
| Yorkshire & Humberside | £693 | £647 | 7.1% | £688 | 0.7% |
| East Of England | £993 | £929 | 6.9% | £987 | 0.6% |
| North East | £555 | £521 | 6.5% | £542 | 2.4% |
| North West | £791 | £744 | 6.3% | £788 | 0.4% |
| Wales | £686 | £646 | 6.2% | £677 | 1.3% |
| South East | £1,102 | £1,043 | 5.7% | £1,086 | 1.5% |
| West Midlands | £755 | £727 | 3.9% | £746 | 1.2% |
| Scotland | £689 | £665 | 3.6% | £682 | 1.0% |
| Northern Ireland | £670 | £663 | 1.1% | £681 | -1.6% |
| Greater London | £1,580 | £1,668 | -5.3% | £1,586 | -0.4% |
| UK | £996 | £968 | 2.9% | £992 | 0.4% |
| UK excluding Greater London | £853 | £803 | 6.2% | £847 | 0.7% |
---
Sign up to receive the latest updates
Enter your details below to receive updates on the latest findings from the HomeLet Rental Index, along with data, surveys or studies released by HomeLet.   
---

As featured in
---
Landlord market survey
Our survey of UK landlords received over 2,900 responses and provides a detailed insight on landlords views and experiences of the private rented sector. Landlords, including customers of our landlords insurance services, were asked for their views on the UK's rental market and their expectations for the year ahead.    
The next landlords survey will be published in 2021, sign up to receive the latest data.
---
Tenant market survey
We surveyed tenants for their views on the private rented sector to better understand their experiences. The survey, conducted in January, received 20,388 responses. Tenants were asked for their views on the UK's rental market, their experiences with their landlord/letting agent and their preferences when renting property. This included whether they plan to intend to rent in the future.
How long do you intend to continue renting?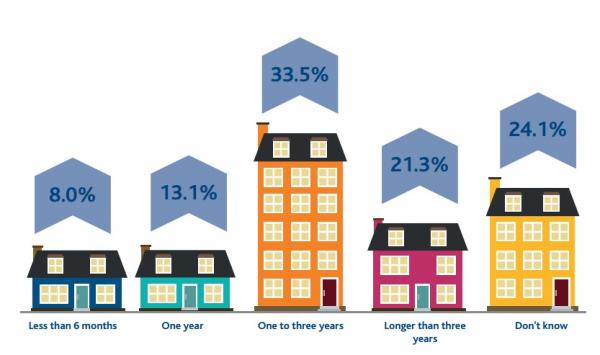 ---
Regional data 
You can use our interactive graphs to view the change in rental values over the past two years for each of the reported regions of the UK. 
Scotland Northern Ireland North East North West Yorkshire & Humberside
East Midlands West Midlands Wales East of England London South East
---
Methodology
The HomeLet Rental Index incorporates a methodology designed in conjunction with a professor at the London School of Economics. The methodology factors in important elements, such as property type and geography, to create mix adjusted averages. This makes Britain's most comprehensive rental market benchmark even more insightful. The methodology has been applied retrospectively to our historical rental market data to ensure that the Rental Index can continue to be used to provide analysis of trends in the private rental sector.  
The index and average prices are produced using HomeLet's mix adjusted rental index methodology. This helps to track the representative rental values over time, which factor in changes in the mix of property types and locations of rented properties.
Data is gathered from our tenant referencing service, and our rental amounts are based on actual achieved rental prices with accurate tenancy start dates in a reported month, rather than advertised costs. The data used in the HomeLet Rental Index is aggregated to regional, county and city level only. This ensures that all property or individual records remain strictly anonymous.
The HomeLet Rental Index is prepared from information that we consider is collated with careful attention, but we do not make any statement as to its accuracy or completeness. We reserve the right to vary our methodology and to edit or discontinue this report. The HomeLet Rental Index may not be used for commercial purposes; we shall not be liable for any decisions made or action taken in reliance upon the published data.
---
Media & data enquiries
You can sign up to receive the latest updates from the HomeLet Rental Index. 
For information regarding the HomeLet Rental Index please email rentalindex@homelet.co.uk
For media enquiries relating to the HomeLet Rental Index please email mediaenquiries@homelet.co.uk