The data included in the HomeLet Rental Index is gathered from our tenant referencing service. The rental amounts are based on the actual achieved rental prices for new tenancies in the reported month. 
As well as information on average rental amounts for new tenancies, the HomeLet Rental Index also provides information on tenant demographics, such as their average age, income, previous residential status and property type they're applying to live in.
HomeLet Rental Index provides a comprehensive and up to date data on new tenancies in the UK. As part of the referencing process for around 350,000 prospective tenants each year, HomeLet processes information including the rental amounts agreed, the number of tenants moving into the property together with the employment status, income and age of all tenants.  The trends reported within the HomeLet Rental Index are brand new tenancies which were arranged in the most recent period, giving the most relevant insight into changes in the Private Rented Sector.  This is in contrast to many other rental indices which are based on all properties which are being managed, which may have had rental amounts agreed as long ago as 2 years. 
View the latest reports
---
February 2015 headlines...
In the three months to February, average rental values for new tenancies in the UK were 9.2% higher than the same period last year
The annual growth in average rental values for the three months to February (9.2%) was higher than 2014 (4.1%) and 2013 (4.8%)
In the three months to February 2015, average tenant incomes were 7.4% higher than the same period last year
Average rents for new tenancies in London in February 2015 are 5.1% higher than February 2014
Average rents for new tenancies in London in February 2015 are 5.1% higher than February 2014
Average rental values for new tenancies in London in February 2015 (£1,390pcm) were £68 more expensive per month when compared to average rental values in February 2014 (£1,322pcm)
When London is excluded, the average UK rental value in February 2015 was £724pcm - this is 7.7% higher than the same period last year (£673pcm)
Change in UK average rental prices 
Monthly change in UK rental prices for new tenancies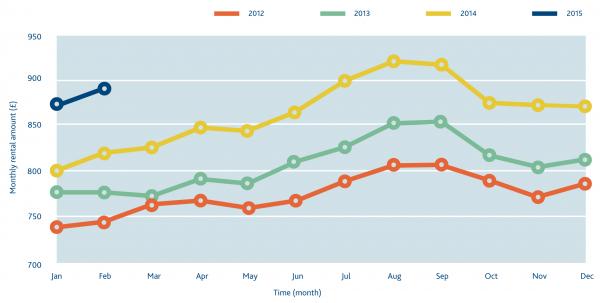 The figures also show…
The average UK rent for tenancies in February 2015 was £899pcm, this is 9.9% higher than February 2014(£818pcm)
When London is excluded, the average UK rental value was £724pcm - this is 7.7% higher than February 2014 (£673pcm)
All regions, apart from Wales, saw an increase in average rental values in the 3 months to February,compared to last year. Wales has seen a reduction of 2%
Greater London, South East and South West have seen continuing increase in rental values over the last 12 months
Rental values and tenant incomes in the three months to February

Average UK rental amounts over the last three months, with annual comparisons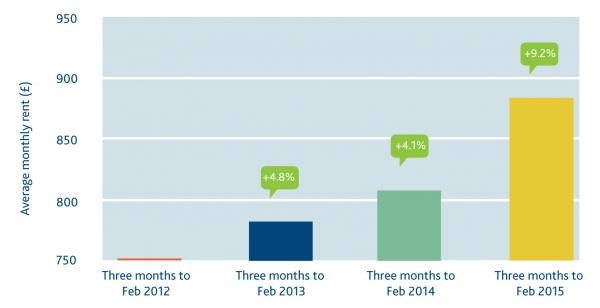 Annual UK tenant income over the last three months, with annual comparisons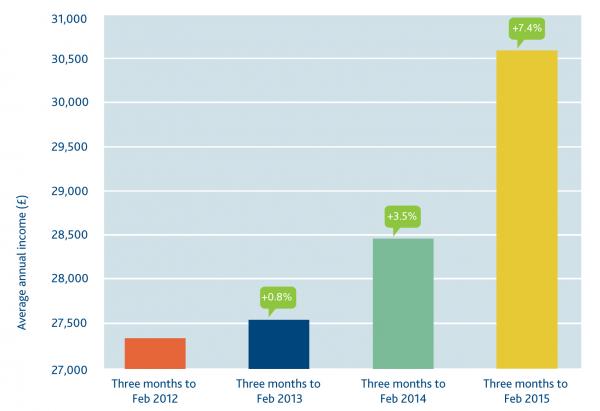 The figures also show… 
In the three months to February, average rental values for new tenancies were 9.2% higher than the same period last year (£885pcm compared to £810pcm)
The annual growth in average rental values for the three months to February (9.2%) was higher than 2014 (4.1%) and 2013 (4.8%)
In the three months to February 2015, average tenant incomes were 7.4% higher than 2014
---
Find out more about the latest HomeLet Rental Index
Regional rental prices
The HomeLet Rental Index includes a regional map which shows the monthly and annual changes in agreed rental amounts for each region of the UK.
> View the regional rental map
Rents in London
Each month the HomeLet Rental Index focuses on Greater London to provide an insight into activity within the Private Rented Sector in the Capital.
> View Greater London headlines
> View rents by area in Greater London 
---
Enquiries
For information regarding the HomeLet Rental Index please email rentalindex@homelet.co.uk
For media enquiries relating to the HomeLet Rental Index please email mediaenquiries@homelet.co.uk