The data included in the HomeLet Rental Index is gathered from our tenant referencing service. The rental amounts are based on the actual achieved rental prices for new tenancies in the reported month.
As well as information on average rental amounts for new tenancies, the HomeLet Rental Index also provides information on tenant demographics, such as their average age, income, previous residential status and property type they're applying to live in.
---
May 2014 headlines...
The average UK rent for tenancies starting in May 2014 was £846pcm, this is 7.5% higher than May 2013 (£787pcm)
In the three months to May (March 2014-May 2014) average tenant incomes for new tenancies were 6.1% higher than in the same three months a year earlier
Average rents in London were 9.4% higher in May 2014 when compared to last year, when average rents were £1,232pcm
Average rental values for new tenancies in London (£1,348pcm) were £116 more expensive per month when compared to average rental values in May 2013 (£1,232pcm)
When London is excluded the average UK rental value was £687pcm, this is 2.5% higher than last year (£670pcm)
May 2014 monthly change in UK rental prices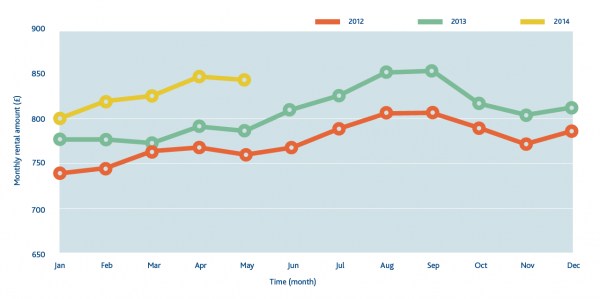 ---
May 2014 commentary
Provided by Martin Totty, Chief Executive Officer of Barbon Insurance Group
Rents in London increase to highest amount on record
"The Private Rental Sector continues to see strong demand with a close correlation in most areas of the country between the increase in average rents and the increase in the average incomes of renters. It is this relationship between rents and incomes that has seen the private rental sector exhibit a steady rate of rental value growth over the last year.
"What we don`t know is if it`s increasing incomes driving the increase in rents or if the rental market is attracting new renters who may be opting to rent rather than buy, either through preference or, as a result of the recent sharp increase in house prices. There is every reason to expect that demand for rental property will continue to rise. The caps on mortgage lending announced by the Bank of England's Financial Policy Committee in June may mean some would-be home buyers miss out. The caps underline the rapid rise in house prices in many parts of the UK and could boost demand for rental property.
"The increase in rental values is a positive sign for buy-to-let investors – the steady rental growth that the sector has generated in recent years is in sharp contrast to the peaks and troughs seen in house prices. We may also begin to see additional rental stock coming on stream, particularly if pension savers take advantage of the annuity reforms and choose to invest in buy-to-let property. With demand set to rise, any increases in stock levels would be welcome news for the growing percentage of the population who rely on the Private Rented sector for a home."
---
Find out more about the latest HomeLet Rental Index
Regional rental prices
The HomeLet Rental Index includes a regional map which shows the monthly and annual changes in agreed rental amounts for each region of the UK.
> View the regional rental map
Rents in London
Each month the HomeLet Rental Index focuses on Greater London to provide an insight into activity within the Private Rented Sector in the Capital.
> View Greater London headlines
> View rents by area in Greater London
Which postcodes fall in each region?
The HomeLet Rental Index includes data from across the country and we provide high level regional breakdowns to indicate how rents are performing in that particular area of the country. Click below to find out which postcodes go where...
> Find out more
---
Media Enquiries
For media enquiries relating to the HomeLet Rental Index please email mediaenquiries@homelet.co.uk